Italy_Santaloka: Winter Retreat 2016
Published Monday, 18 January 2016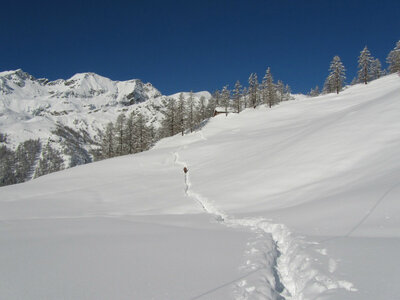 Italy_Santaloka: Winter Retreat 2016
(picture: Santaloka, a retreat hermitage run by Santacittarama Monastery).
Santaloka is a small hermitage in north-west Italy, climbing distance from Monte Rosa, one of the highest mountains in the alps, and only a few kilometers from the Swiss border and the Matterhorn. At 2,000 metres above sea level the stone building was formerly a cow-herder's cottage. Although used mainly in the spring and summer it has also been made habitable during the colder months. Ajahn Chandapalo and anagarika Samuele will be spending 2 weeks there this February.  A selection of photos taken 2 years ago can be found here.