US_ Temple Monastery: Robe-Offering and Going-Forth
Published Monday, 29 August 2016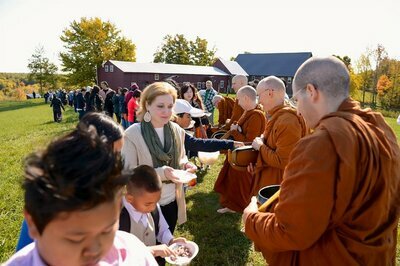 US_Temple Monastery: Robe-Offering and Going-Forth at Temple Monastery, New Hampshire
picture: alms-round during the 2014 Robe-Offering (Pah Bah) at Temple)
Sunday, September 18: 2016 'Pa Bah' Offering Ceremony.
Friends of Temple Monastery will be offering the annual fall almsgiving ceremony on this day, from 10:15 a.m. to 2:30 p.m. Everyone is warmly invited – see the website for more details. 
Saturday, September 17: Going Forth Ceremony
A novice and two postulants – Anagarika Devin, Barnes Peterson, and Michael Keezing – will take their vows at 1:00 p.m. The ceremony begins at 1.00pm. More details are on the website.